Last Updated on February 2, 2021
A telephone answering service can help a business by ensuring that every call is answered in a timely manner, protecting from frustrated customers who would have been caught by a voicemail.
There are many benefits to the business when using a telephone answering service such as retaining customers, protecting employees' time from not being interrupted to take calls, and also streamlining internal processes that can save the business money.
Alike any other business decision, there are cost implications to subscribing to an answering service.  There are also lots of options available on the market, providing plenty of choices, however, this can be seen as overwhelming initially.
Let's discuss the main elements of the packages to be aware of and other pricing factors.
How Per-Minute Versus Per-Call Pricing Affects Your Cost
Pricing structures can vary vastly within the market but typically there are two common pricing structures.
The first is the cost per call pricing structure.  This option requires a firm grasp of your typical inbound call levels, plus the awareness that some companies often charge the same rate when customers call in by accident, with the wrong number for example.  Be aware that the costs of this option can soon escalate if not monitored carefully!
The second type of pricing model is based on the time that the virtual assistant commits to supporting your business.  The time will obviously involve answering calls but could also include any additional work such as sending emails or undertaking any supplementary work.
---
Get a FREE Quote
For your personalized 24/7 Telephone Answering Service.
---
Typical Answering Service Plans
Analysis of your businesses' current requirements should be conducted before entering into a contract with an answering service provider.  It would also be worth considering the company's future plans, ensuring that any capacity issues can be met by the chosen provider.
For example, if the business has plans to expand and launch within another country, the provision of multi-lingual virtual assistance would be of interest.  Ideally, it would be best to find a solution that works now but will continue to assist as your business grows.
There are many reputable call handling service providers on the market, offering a wide range of plan options.  This can be overwhelming when looking into outsourcing and therefore to provide an insight into the costs involved, the following typical service plan overview may be useful.
Generally, there are four size options available for service plans as follows:
100-150 minutes – This plan would be considered the basic or entry-level option, and as such doesn't provide much of a buffer should the business requirements vary within a month. The plan would typically be charged as a monthly subscription cost and any additional services or minutes would be charged on top. Current market rates for this size of the package would be approximately between $150 and $200 per month, plus any initial set up charges.
200-250 minutes – This size of service plan is the middle option and would be priced in a similar way to the first package, however often by subscribing to more minutes, there is a benefit as the price per minute tends to be lower. In addition, by choosing an option with a cushion of extra minutes, surplus to usual activity, the business could save itself from any additional charges from going over minute allowances.
The current cost of this level service plan would typically be between $250 and $350 per month, plus any initial set up charges.
500+ minutes – Any package of 500 minutes or more would be considered the best value option for businesses with greater numbers of call numbers due to the savings within the cost per minute rates. Typical costs will vary depending on the cap of the range of minutes plus any additional services chosen, however, prices often start at around $500 per month, plus set up costs.
Customized quotes – Should the businesses' requirements exceed 500 minutes on average per month, or if there are any specialist industry criteria to be considered within the service plan, it would be worth seeking quotes on a range of tailored plans. Prices will vary depending on the call minutes needed and other services required, however, a customized package may be more cost-effective in the long term.
Does your company deal mainly with business to business? If so, check out our guide on B2B Lead Generation Call Center Services, B2B Appointment Setting, and our article reviewing the best Appointment Setters Services.
Some providers may offer flexibility between packages, such as options to upgrade at particular points within the contract however the availability of such terms should be checked before committing to a specific package.  Providers may also offer trials of their services, however, explore these with caution and always check the terms and conditions!
Note: Read our guide and review of some of the cheapest answering services available services.
As with every contract, ensure that the small print is thoroughly reviewed as extra charges can be added for certain circumstances such as service provision over state holidays.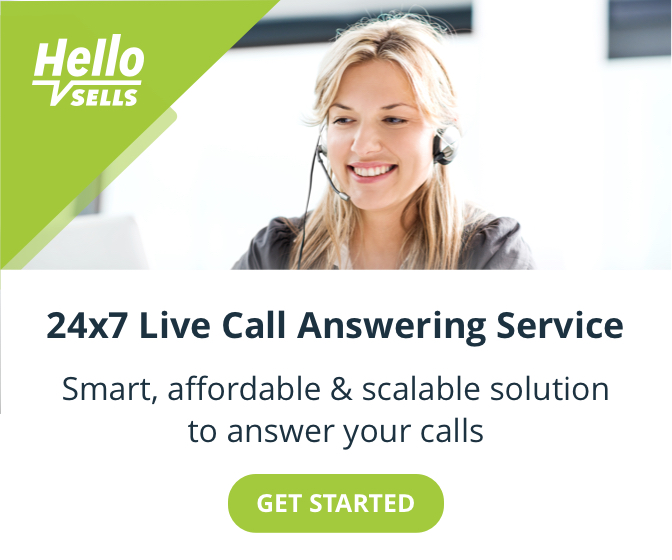 Factors that Increase the Costs of an Answering Service
 As discussed throughout this article, there is a range of supplementary services available on the market that can be bolted onto a standard answering service package.  Obviously, the more services that a business opts to add will increase the overall monthly costs, however, they could provide other benefits to the company such as efficiency savings or streamlining compliance requirements.
Some of the most common additional services are as follows:
Which Pricing Plan is best for Your Business?
There are no hard and fast rules advising which package and provider will suit your business best, therefore the key starting points to selecting a call answering service is to ensure a strong awareness of your company's requirements and undertake plenty of research into the provider, package options, reviews and any surcharges included within the contracts.