Last Updated on November 16, 2020
For any business size and type, the ability to deal with calls effectively is vital when it comes to generating increased revenue.
Yet, for those companies that find themselves being overwhelmed by calls, the idea of an answering service, to act as a virtual assistant, is one which they may consider at some point in time.
When your business finds itself struggling with the sheer volume of calls daily, there is the potential of losing not only profit but also valuable long-term customers alongside a large chunk of your reputation.
If you are considering the possibility of using the expertise of a call handling service, here we offer a brief but informative guide as to the many benefits of such services.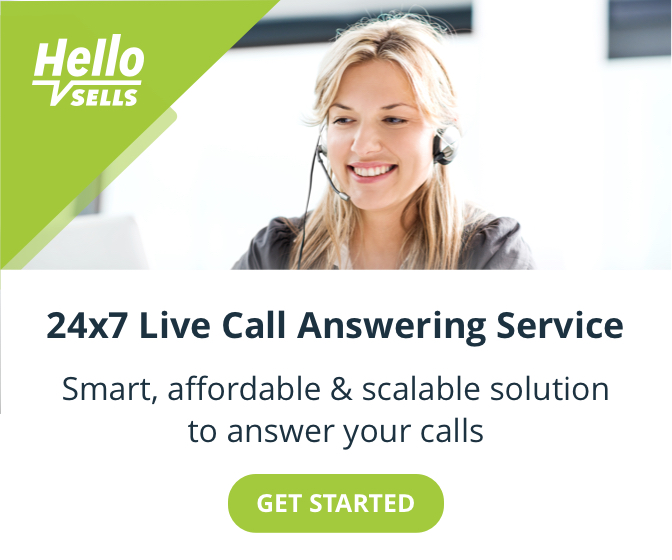 What Is A Telephone Answering Service?
A telephone answering service is a business that answers inbound calls on behalf of your company. There are many reputable US based call handling services that provide such services for businesses of all sizes.
Essentially, by subscribing to a telephone answering service, calls to your business will be answered and taken care of by a virtual receptionist. This means potential customers will be able to reach someone on the phone, avoiding the dreaded voicemail, a leading contributor of lost business.
Never miss a call with our After Hours Call Service! Only at HelloSells
Depending on the provider you choose, calls can be answered 24 hours a day, 365 days a year, providing you with year round peace of mind. It means that your business will never miss a call from a potential prospect again. This means your business can save both time and money and ensures someone is always at the phone ready to respond to your customers.
Excellent customer service is something that everyone can appreciate and having a virtual receptionist on hand can be the difference between securing that client of them going to your competitor.
Does Your Smaller Business Need a Call Answering Service?
Because the integration of a call handling service requires a little preparation, initially extra time, and indeed additional costs, many businesses, especially those smaller sized, need to be reassured that it is suitable for their needs.
With this in mind, it's worth briefly placing yourself in your customer's shoes. Imagine what it's like when a potential customer calls your business.
The first thing they want is for someone to answer that phone quickly. Next, your customers want to be greeted by a courteous professional who knows what they're talking about,
Finally, they want to be able to have any of their questions and queries answered in this one call without being passed around several departments.
If this service is spot on, then you will have one happy customer and potentially have made some revenue in the process!
Now, consider how your current set up works? For many small businesses with much on their plates, the phones are often left to ring off the hook.
You may have already begun to implement a solution via means of an answering machine. Yet, by having this on throughout the day, you portray a stance that you really can't be bothered with your customers.
Nobody likes to talk to an automated machine, as it's impersonal and highly unprofessional if it kicks in during official office hours. Business call handling is very similar to an outsourced receptionist service in many ways.
Ultimately, if you don't answer your phones, the likelihood is that those customers, both current and potential, will look to take their business elsewhere. And, as a smaller business, this is the worst-case scenario, long term.
---
Get a FREE Quote
For your personalized 24/7 Telephone Answering Service.
---
Telephone Answering Service Considerations
There are various types of call answering services available, some of the most important questions you should ask include the following:
How fast are the calls answered? Ideally this should be within the first few rings.
Is the call centre US based? Many people find it easier talking to someone fluent in their native language.
Are there any set-up fees? Be aware that many call services aren't always transparent about their fees.
Is it a 24/7 service? Does your business require someone to take calls out of hours? If so, make sure the service you opt for provides an after hours answering service.
Does the call answering service offer coverage during evenings, overnight, on weekends, and whenever you step away from the office? The best certainly will offer that as a service.
Will you receive full access to the call management systems and tracking tools? This will allow you to accurately measure our effectiveness and customer satisfaction.
We factored all of the above considerations in out selection of the best call handling services. See below for the complete list.
Benefits of a Phone Answering Service
All your calls will be answered – such services have many employees working for them, and therefore they can accept every call.
You can set your office opening hours – significantly increasing them if required.
All customers will receive a response to their question and queries.
No-one has to wait in line, listen to elevator music, or leave a message with an automated machine.
The people answering the phone are courteous and professional.
They can offer a most personalized service throughout all call handling services.
You instantly reduce staffing costs.
You never have to employ temporary staff to operate your phones throughout periods of sickness and leave.
You can offer a high level of customer service that fits in with a 24/7 society.
Best Call Handling Answering Service Companies
These are the top five choices recommended by many satisfied customers when it comes to utilizing a reputable live answering service:
A professional and friendly phone number answering service, HelloSells is renowned in the industry for its lead response and inbound sales packages. They also operate 24/7 and 365 days a year.
Another professional service, Go Answer excels at inbound services as well as outbound services while offering businesses many more customized plans in between.
Ideally placed to work with those low volume businesses, Signius Communications are considered top when it comes to offering exceptional customer service.
Working to provide comprehensive call handling services, TeleDirect offers excellent price packages and plans to suit all.
Another excellent outbound choice, Five Star Call Centers, provides access to several fantastic answering services at various low prices.
Costs of Telephone Answering Service
When you select a reputable call handling service, you will be offered a wide range of packages and plan choices. This will ideally suit your individual needs when it comes to the type of answering service you need to put in place.
Most service providers here will work from prices ranging around the $50 mark per month. This will all largely depend on the number of minutes you require plus whether you will be using any additional features as standard.
As a guide, you can expect to find a plan offering anything from 100 minutes to as much as 10,000 minutes.
But those top-rated companies will make sure that you get the price plan for a cheap answering service that ensures you only pay for what you really need.
Affordable Call Handling Services 
If affordability is your main goal, but you don't want to take any shorts, then we would highly recommend HelloSells.
Why?
Their pricing structure is straightforward and transparent, they are US based and offer a 24/7 out of hours service, 365 days a year.
Final Thoughts on the Best Call Handling Services
One of the best features of implementing a call handling service into your business is the knowledge that never again will you miss a call.
This is most encouraging when considering that most of our customers are always busy and find it thoroughly frustrating having to deal with companies whose communication methods leave little to be desired.
Ultimately, by accessing business answering services, you ensure that you present your business in the best possible light – which is crucial in a society that thrives on likes and positive feedback!
Better still, by enabling such a service in your business, you allow yourself to get on with the other important stuff that needs doing. With so many companies especially those smaller sized, having to stop what they're doing to take phone calls, the interruption here is immense and continuously sets back your workday each time.
So, if you're interested in getting started with a professional service like this, why not start your search with HelloSells?
Noted as one of the top-performing companies in the US, HelloSells can provide you some impressive call handling features that your customers can access 24/7/365.