Last Updated on November 16, 2020
When a Heating, Ventilation and Air Conditioning (HVAC) business grows at a steady pace, it can find itself caught in a 'catch 22' position, with lots of inquiries or leads coming into the business but not enough time to process them effectively, getting back to potential customers.
One solution to this problem is to outsource some of the days to day admin duties to an HVAC industry-specific telephone answering service.
What is an HVAC Answering Service?
A telephone answering service provides assistance to businesses by managing their inbound calls, handling them on the companies' behalf.  Calls that could have been missed or only caught by a voicemail are answered professionally, in a timely manner by virtual receptionists.
There are many service packages available including the option of calls being answered 24 hours a day, ensuring that every inquiry is handled.  Additional services are also available such as multi-language provision and the option for the handling team to help further providing assistance with ordering parts or diagnosing issues on site.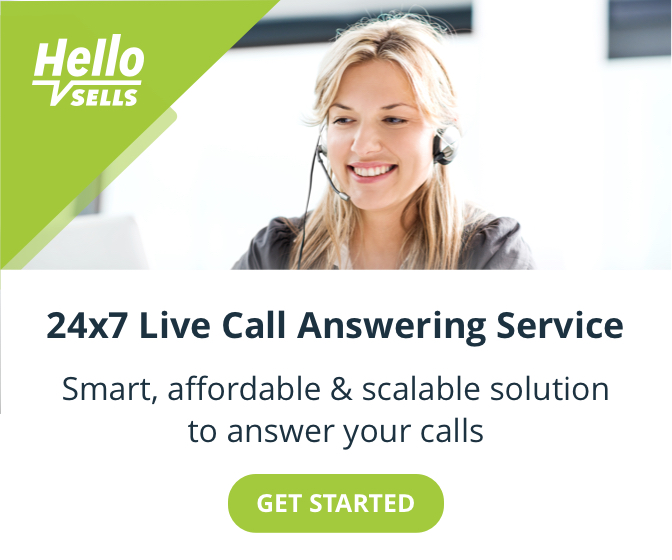 By choosing an answering service that is industry specific, the trained virtual team are aware of the challenges faced within the market, provide a tailored approach and understand the industry jargon to resolve queries quicker and easier.
When does a Business need an HVAC Answering Service?

An HVAC business may seek to implement an answering service if they are growing quickly and need knowledgeable admin assistance, for cost savings purposes or to improve current call answering levels.
Never miss a call with our After Hours Call Service! Only at HelloSells
When a business is ready to explore an answering service, the analysis should be undertaken to review the current situation regarding the levels of calls typically received and the possible number of missed opportunities due to a lack of follow up.  The cost of missed business can add up, however, should customers not receive the appropriate service, there is also the risk of reputation damage to the company.
Secondly, the current call handling process could be reviewed from the perspective of the customers.  The first impressions that a potential customer can gather are often during the initial interactions with the company and therefore if calls are missed, there are staff capacity or knowledge issues, business could be lost before it's even secured!
During this stage, the options of other new phone systems can be explored.  New technology can provide various options including call holding and queuing systems, options for different teams, and seamless transferring of calls between staff, however, the initial outlay can be very pricy.  Also, the technology can age pretty quickly resulting in frequent reinvestment.
An internal review of the current admin staffing levels, capacity available, and friendliness could also be undertaken. Hiring additional admin staff could be very costly, however, if the call handling duties were outsourced, the business could benefit from reallocating the other admin work such as invoicing and marketing, resulting in these areas receiving more attention.  Staff would also benefit from the distractions of the phone ringing, and therefore increases in productivity can often be seen.
With most business decisions, a cost benefit exercise should be undertaken to establish the benefits to the business for the additional cost.
---
Get a FREE Quote
For your personalized 24/7 Telephone Answering Service.
---
What are the Benefits of an Answering Service?
In addition to the benefits of capturing every call as already mentioned, there are other benefits from subscribing to an HVAC call answering service.
The company's reputation can be increased due to the customer service levels offered, and the ability for the company to appear bigger, secure, and brand awareness by utilizing scripts provided to the virtual receptionist team. Every call is therefore handled in a similar, focused manner, presenting a professional and organized business.
Industry specific answering services can also provide dispatching services, managing call outs, engineers' caseloads, and dairy management. The virtual teams are also knowledgeable with the supply chain and therefore can provide assistance with locating and ordering parts direct from dealers or providing warranty details.
In a competitive market, every additional benefit to a customer can help provide that competitive edge!  One way to offer this is to extend the communication opening hours of the business by utilizing a 24/7 call answering service.  Customers can always get hold of your company, providing an out of hours of personal service.
Call recording features can also be added providing the company a record of calls should they need to be referred to.  These records can assist to resolve any issues promptly without escalation, providing an additional resource should disputes arise.
In addition, depending on the businesses' current administration staffing costs, and the plans of reallocating work, there are possibilities of reducing the costs of admin by outsourcing calls.
What Should be Considered When Choosing an Answering Service?

Once a company has made the decision to subscribe to a call answering service, there are a few key elements that need to be considered when researching providers.
Firstly, it is important to choose a reputable, reliable, and established brand that can be trusted by interacting with your customers and processing their data.  Next, take a look at the services offered asking:
What is the service agreement on the response rate, the time or number of rings calls that must be answered within?
What is the quality of the line like? Is noise cancellation used if within a busy call center?
What operating hours can be offered?
Where is the call center based?
What is the level of industry knowledge within the virtual team?
What are the rates of telephone numbers? Can customers save money by calling the service?
What is the set-up process? How long will it take to install?
Are additional features available such as management services including call recording and tracking tools to monitor the service provided?
Is there flexibility within the package options? For example, to accommodate seasonal peaks and troughs of call levels, or business growth?
Are trials available or what is the minimum contract duration?
What are the Costs Involved?
There are many companies offering HVAC call answering services, providing a wide range of different packages.  Pricing structures can vary vastly but typically there are two common pricing structures as follows:
A set monthly subscription charge providing a certain level of service. With this option, be aware of additional fees for out of contract elements such as out of hours messages.
A cost per call or cost per minute pricing structure. This option would require a firm knowledge of your typically inbound calls as the costs can soon ramp up!
The selection between the options will depend on the business's requirements, the future plan of development, and the company's budget.  Once the option is chosen and the contracts are drafted, watch out for any hidden charges as the total bill for call answering can escalate if unexpected surcharges are added!