Last Updated on November 16, 2020
A live answering service is an outsourced customer service provision, enabling customers to speak to a real person when they need assistance.   An answering service can assist with bolstering your current provision, such as extending opening hours or improving your call answering statistics.
Call answering services are also perfect for small businesses who are not quite ready to commit to additional admin team members. The answering services can provide supplementary team support on a regular, full-time basis, or as needed such as during seasonal peaks.
There are also other benefits that can result from the services, such as increasing brand reputation due to providing a streamlined, professional and consistent approach to customer service.
There are many affordable services available on the market, enabling business calls to be answered by a real person, based within the United States, up to 24 hours a day.
What is a live answering service?
Live answering services are operated by virtual assistants, who are often based externally to the business and can perform a range of business and administrative duties, across an array of functions, adding capacity to a company.
The assistants provide a cost-effective solution that can not only ease the admin burden on a day to day basis, but also enable companies to reach new business goals. All of which can result in allowing business owners to focus on current clients or grow their business.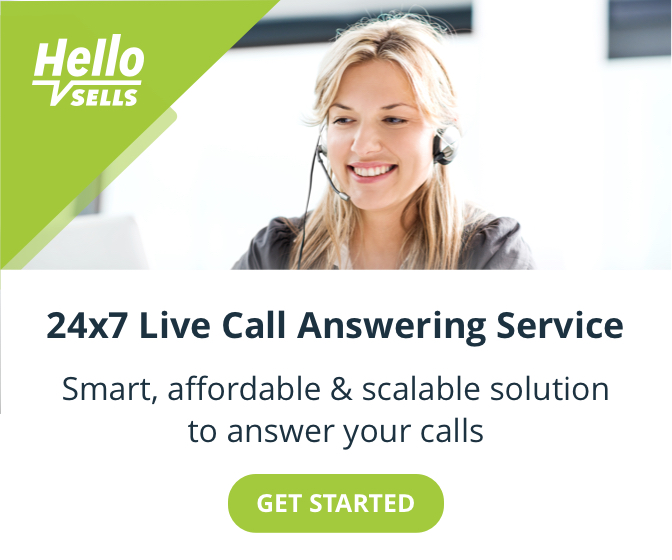 Advantages of a Live Answering Services
In addition to the benefits already discussed, answering services can also provide other advantages to a business, as follows:
Call screening – Virtual receptionists will ask screening questions before transferring any calls directly to the business, therefore there are fewer interruptions on a daily basis, enabling the in-house team to be more productive. Spam calls also do not pass through the screening questions and therefore are eliminated from day to day in house business operations.
Call Answering Guarantees – Inbound calls will no longer ring through to voicemail or be missed. Live answering service companies will offer guarantees within their contracts to ensure that every call is answered within a set number of rings.  Which in turn can improve a businesses' reputation over time.
Cost Savings – Live answering services provide a business with a number of options to cut costs; either by outsourcing the current provision or by keeping the costs low of additional resources. Each provider will have a range of plans, enabling a business to choose the exact level of service required.
Improved Customer Ratings – Customers appreciate the additional features that a call answering service can provide, which are often very time consuming and costly to create in house such as longer opening hours, consistency when speaking to customer service representatives, and prompt, high-quality service. All of which can gain increased customer reviews, which with a competitive advantage and can also assist with winning future business.
Flexibility – One of the most important advantages that a live answering service can provide is the flexibility it can offer a business. The additional capacity obtained from answering services can often be tailored to the company's requirements such as regular additional hours or ad hoc assistance during peak periods. Package options can also usually be added or removed as needed, ensuring that a business only pays for the services they are using. As with any contract, it's important to check the terms and conditions to ensure a full understanding of the flexibility on offer from the provider.
Looking for US-based call center services? Check our American Answering Services guide, and if you are on a budget check out our guide to Cheap Answering Services. 
Additional Services on the Market
Providers will likely offer additional services on top of their basic call answering packages. Obviously taking extra services will increase the monthly costs of the package, however, they can also add value to the business, providing insight or streamlining current in-house processes. A couple of the typical additional services available on the market are as follows:
Call Monitoring – This add-on option is commonly supplied by the use of additional software that the business owners would have access to, providing an insight into the call statistics and the overall success of the call answering service.
Appointment Scheduling Services – Whether the appointments required are initial sales appointments or engineer appointments attending a maintenance issue, virtual assistants can help with both the calls and ongoing diary management tasks. By outsourcing appointment scheduling tasks, a business can maximize its business leads, ensuring that all are followed up and booked in, as well as reducing the in-house administration required.
Assistance within Multiple languages – Businesses who have worldwide clients may seek to centralize their administrative support with the help of multi-lingual virtual assistants. With this objective in mind, it would be worth ensuring that the operating hours were chosen for the answering service contract cover any time differences between the countries that the business operates within, or their customers are based in.

Does your company deal mainly with business to business? If so, check out our guide on B2B Lead Generation Call Center Services, B2B Appointment Setting, and our article reviewing the best Appointment Setters Services.
---
Get a FREE Quote
For your personalized 24/7 Telephone Answering Service.
---
How to Choose an Answering Provider

Once a business has decided to utilize a live answering service, the objectives should be established, ensuring that the business' requirements have been determined before approaching the market. To do this, a company should review the current call answering provision including; current call levels, business developments, or marketing campaigns which may change the capacity required and any issues being experienced.
Once the in-house exercise has been completed, research can commence exploring the companies on the market and their package options. When reviewing the options, it's critical that all of the details are ironed out to enable comparisons between suppliers, and therefore the following elements should be established:
How many rings will the company guarantee its response within?
What are the standard line qualities typically like? Is noise cancellation used if within a busy call center?
What are the standard operating hours, and can add hours be offered?
Where are the call centers based?
Are there any set-up fees and how long will implementation take?
Are additional features available such as management services including call recording and tracking tools to monitor the service provided?
Is there flexibility within the package options? For example, to accommodate seasonal peaks and troughs of call levels, or business growth?
Are trials available or what is the minimum contract duration?
Wondering about the costs of a telephone answering service? Want to know what an answering service is? We're here to help guide you, whether you are looking for advice on the best telephone answering services, an outsourced receptionist service, a basic message taking service, or more specialist services such as HVAC answering services.
 Live Answering Services Summary
Live answering services can offer much more than simply taking away the burden of incoming calls to a business and therefore a review of both the company's requirements and the competitive advantages available from the market options are useful insights when negotiating contracts.